Tulsa OK Roofing Contractor & Siding Contractor
New Roof Tulsa
Tulsa Roofing & Roof Repair is Oklahoma's premier roofing contractor! As leaders in our industry, we employ the finest craftsmen available to install new roofing, performing roofing repair, install replacement roofs, install or repair gutters, and much more.
Was your roof a victim of damage from the recent storm? Whether you've suffered damage from high winds or hail damage, our professional roofing contractors will provide a free roofing assessment for you and if you're entitled to insurance coverage, we will help you file a successful insurance claim so you can get your repairs paid for.
Roof Repair Broken Arrow
At Tulsa Roofing & Roof Repair, our roofing contractors are trained, licensed, and fully qualified to work on roofs in Tulsa and the surrounding areas. Our roofing crews have decades of experience working on roofs in and around the Tulsa area, and we understand our business is built on reputation. We firmly believe our quality is only as good as our last job, so we treat every single roofing project we have a hand in with the utmost care and concern.
Tulsa Roofing & Roof Repair is a locally owned, family-oriented company. We understand the value you place on your property, and also understand you have a choice when it comes to roofing companies.
Roofing Replacement Bixby, Jenks
If you're in need of any of our professional roofing services - whether it's installation, repair, maintenance, or a total roof replacement - please don't hesitate to give us a call. We provide completely free, no obligation quotes for all our roofing customers in Tulsa and the surrounding areas. That includes a free roofing inspection and our best advice as to how to proceed with your roofing or guttering service.
Give us call today at 918-205-9661
If you're in the market for a new roof in Tulsa, OK, look no further than Tulsa Roofing & Roof Repair! Our professional roofing contractors will fix you up in no time. We use only the highest quality products in all our new roof installations, and we guarantee our work. If it's time for you to get a new roof in Tulsa, Bixby, Broken Arrow, or the surrounding Oklahoma areas, trust your property to the best roofing crew in Oklahoma. Contact us at 918-205-9661
Did a recent storm damage your roof? Are you missing shingles? Did a hail storm do a number on your roofing? We are the best roof repair experts in Tulsa. Contact us today for professional roofing repair. We offer free consultations and 100% up-front pricing, and our roofing pros will leave your rooftop better than new. There's a reason Tulsa clients trust us for all their roofing repairs. Customer satisfaction guaranteed! Call 918-205-9661
Your roof is the first barrier between your family and the elements, and being that we live in Oklahoma your roof sees a lot of wear and tear throughout the year. From high winds, to strong storms, to extreme temperatures, no one's roof will last forever in Tulsa. If the life cycle of your roof is coming to an end, it's time to replace it with a new one. Trust your roof replacement to the best roofing contractors in the business. Give us a call at 918-205-9661
We will work with your insurance company.
Vinyl siding is a great option for both residential and commercial customers looking for excellent, easy to maintain protecting for exterior walls. Siding is quickly to install, visibly pleasing to the eye, and an attractive solution for many home and business owners because of the long-lasting nature and protection of the material. Free siding quotes available for customers in Tulsa and the surrounding areas. If you're in the market for a siding solution installed and maintained by the best siding crew in Oklahoma, please contact our friendly siding contractors today at 918-205-9661
Oklahoma is famous for many things, not the least of which is being dead center in tornado alley! Storms and high winds are not friendly to roofs - especially shingled roofs in Tulsa. If your roofing has been damaged by storms, high winds, hail, or other unfortunate circumstances insurance should cover, give us a call and let us help. We will work to make sure you get all the insurance coverage you should have coming to you, and will even walk your roof with your insurance adjuster to make sure they don't miss anything. If we can help, please call 918-205-9661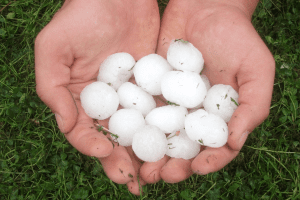 While hail storms are more infrequent than other types of weather anomalies in Tulsa, they do occur and are intensely damaging to residential and commercial roofs in the area. When a hail storm blows through, it's always a good idea to get your roofing inspected, because even a short burst of hail for ten or fifteen minutes can absolutely wreck a roof if certain conditions are met. Hail damage is covered by the insurance you're already paying for, but only if you can prove the damage was due to recent hail. If it hailed today, don't miss your opportunity - call us immediately for an inspection. 918-205-9661
Hire Tulsa Roofing & Roof Repair
Get a Free Consultation & Estimate
The first step involves assessing your current roof. Our professional Roofing Contractor will travel to your property, walk your roof in person, and provide you with a free assessment and quote.
After you've received a free quote from us, when you decide to hire we will sign a contract with you outlining expectations and specific costs. If deposits are needed, we will collect them and assign a date to complete your work. If an insurance company is involved, their expected pay out will be reflected in the contract.
We guarantee 100% customer satisfaction. When we're finished with your roof, all you will have to do is enjoy your beautiful, functional finished product. Roofing as easy as 1, 2, 3.
Reasons to Hire Tulsa Roofing & Roof Repair
We are a locally owned, family operated roofing contractor and siding contractor in Tulsa. When you hire us to complete your roofing project or siding project for you, you are hiring roofers and vinyl siding pros who are your friends and neighbors.
We complete every roofing and siding project according to the highest standards of safety and quality in addition to ensuring all local codes and ordinances are more than satisfied.
Customer satisfaction is our highest priority. When you hire Tulsa Roofing & Roof Repair to build a new roof for you, repair your roofing or siding, performing a roofing replacement or anything else, we will treat your project as if we were working for our own families. Customer satisfaction is 100% guaranteed.
Tulsa Roofing & Roof Repair uses only the highest quality materials for all our roofing and siding installation. Whether it's asphalt shingles, flashing, gutters, vinyl siding or something else, quality is our main concern in roofing and siding products.
Our roofs are built to last, and all of our roofing and siding installations come with a limited warranty to protect your investment giving our customers peace of mind. When you hire us to build a new roof in Tulsa, install new siding in Sand Springs, perform a roof replacement in Broken Arrow, or carry out a siding repair in Bixby, rest assured you're hiring the absolute best roofing contractor and siding contractor in Tulsa County. Thank you for your business!
Quality Roofing Service You Can Trust
Tulsa, Bixby, Broken Arrow, Jenks, Owasso, Sand Springs, and the Surrounding Areas in Oklahoma